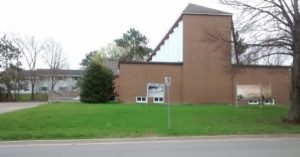 Hello and welcome to the Gentle Shepherd Community Church located right by the UNB/STU campus on Grandame Ave.  We are a family-sized evangelical church with people from diverse walks of life who have come together to enrich one another.  Our model is Jesus, who is gently shepherding us through the ups and downs of life.  Our Pastor, Scott Kohler, teaches us at our Sunday morning services to equip us to better follow our Shepherd.
If you're coming to Gentle Shepherd for the first time on a Sunday morning, you can expect:
a warm greeting
a worship service that starts at 10:30 am and ends around 11:45, followed by coffee/tea and snacks downstairs for those who are interested
We have a nursery downstairs as well as a children's/youth program for ages 4 to Grade 8
We have no dress code so please come as you are comfortable.
We also have services and programs for the community that go on throughout the week.  Please browse the details of our local programs and services here.  Because Fredericton is such a multi-cultural community we also have an online program in the Bible to serve the broader Hindi-speaking community.  Hence our novel URL – VedaPusthakan – which means 'Wisdom books'.  The Bible is a collection of books that give us wisdom from God.
Please contact Scott here for more information